Product Categories
Contact us
Contact Person: Andy Wu
Mobile: +86-18357251508
Tel: +86-572-2576818
Fax: +86-572-2576891
E-mail: sales@sifengbio.com
Skype: andy.wu17
Plant extracts
Your Location: Home >> Plant extracts
Catechin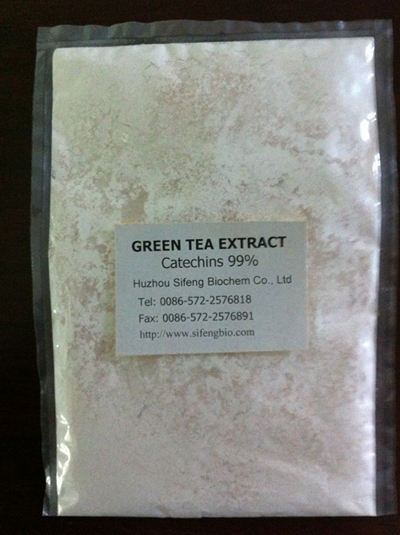 Items: SF-007
Products name: Catechin
Specification: 40%-99%
CAS No.: 7295-85-4
Green tea extract-Catechin
Product Name: Catechin
Molecular formulas: C15H14O6.H2O
Molecular weight: 308.28
CAS NO.: 7295-85-4
EINECS NO.: 230-731-2
Test Method: HPLC
Specification: 50%-99%
Solubility: solution in water easily.
Packing: 1kg/bag, 25kg/drum
Storage: Store in a cool and dry room, keep sealed and keep away from direct light.
Function:
1. Catechins will reduce blood pressure, blood sugar, blood lipids
2. Catechins with the function of removing radicals and anti-aging;
3.Catechins can enhance the immune function and prevention of colds;
4.Green tea catechins will anti-radiation, anti-cancer, inhibiting the increasing of cancer cell;
5.Green tea catechins used to anti-bacterium, with the function of sterilization and deodorization.