Product Categories
Contact us
Contact Person: Andy Wu
Mobile: +86-18357251508
Tel: +86-572-2576818
Fax: +86-572-2576891
E-mail: sales@sifengbio.com
Skype: andy.wu17
Plant extracts
Your Location: Home >> Plant extracts
EGCG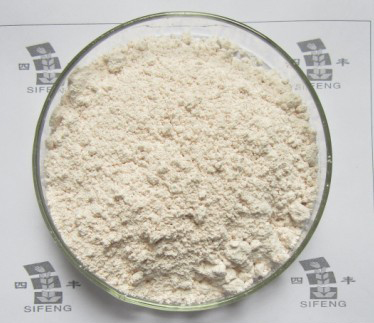 Items: SF-009
Products name: EGCG
Specification: 50%-95%
CAS No.: 989-51-5
Green tea extract-EGCG
EGCG is a kind of component extracted from Chinese green tea. It is the primary active and water-soluble component of green tea, which has the highest content among the tea catechins. By virtue of its peculiar stereochemical structure, EGCG possesses much stronger anti-oxidant activities and plays an important role in preventing cancer and cardiovascular diseases. In addition, it is potent as the reversal agent of MDR (Multidrug Resistance). As such, it may improve the sensitivity of cancer cells to chemotherapy drugs and reduce toxicity on the heart.
Product information
Original of extraction: green tea
Synonym:(2R,3R)-2-(3,4,5-Trihydroxyphenyl)-3,4-dihydro-1(2H)-benzopyran-3,5,7-triol3-(3,4,5-trihydroxybenzoate)
Molecular formulas: C22H18O11
Molecular weight: 458.38
Appearance: off-white color powder
CAS number:989-51-5
Specification: 15%-98%
Solubility: solution in water easily.
Packing: 1kg/bag, 25kg/drum
Storage: Store in a cool and dry room, keep sealed and keep away from direct light.
Application: Medicine, Health food, Food, Beverage, Cosmetics and Beverage, etc.
Function:
1. Cancer Prevention
2. Cardio protection; prevention of atherosclerosis;
3. Prevention of tooth decay and gum disease;
4. Liver protection;
5. Anti-platelet aggregation to prevent blood clotting;
6. Kidney function improvement;
7. Protection and restoration of immune system;
8. Inhibition of infectious pathogens;
9. To aid digestion and carbohydrate utilization;
10. Cellular and tissue antioxidant;